February and March 2016
February and March 2016
February...
What about this month? ... Showers every day, any small ray of sunshine, and moreover, February had an additional day! ...

We made only daily walks between two showers, and more frequently under the shower. It is not a problem for our beardies, but really, it is unpleasant ...

Then, we waited for Mars! ... or rather, we prepared his coming ...

Mars...

Walk, " big bath " walk, bath of white legs, walk, bath of legs again... My country girl Dreams told me:

" What? Still? Let dry the mud! I'm not a doll! "

" Be kind, my princess! We will go somewhere, you will have full eyes of it! But you have to be lovely, lovely... "

Cery and Hurdy laughed in their goatees... For them, a "natural" grooming, just with the brush, and it's good, they are clean and without knots to go to their nannies!

Because finally Mars arrived!

We took the ferry! Hey yes, it's our favorite direction: Great Britain!!!
The next day, we had less than 3 hours to arrive to Birmingham... A spectacular truck accident stuck us on the highway around 20 km of our hotel... Three ways were completely blocked, and we waited 6 hours in the car. Stoical, phlegmatic as our British friends! Hopefully, the driver of the truck had only slightly hurt.

A long walk with Dreams, meal, and "dodo" early all three in the large bed!... Yes, she leaves us a little place!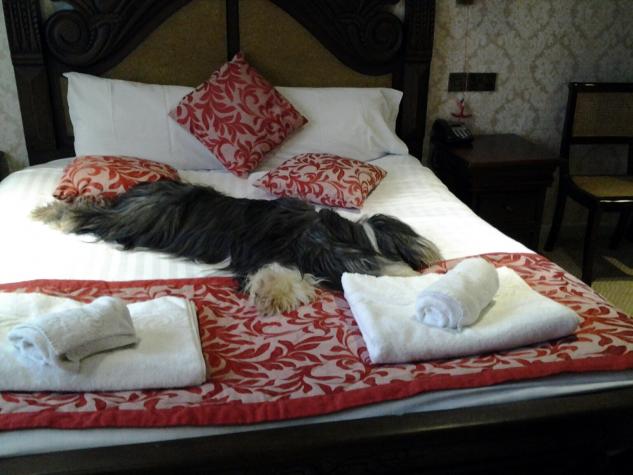 Alarm clock very early on the morning, we were too much afraid of a problem which would have still delayed us, and it happened: we were there!
CRUFTS !!!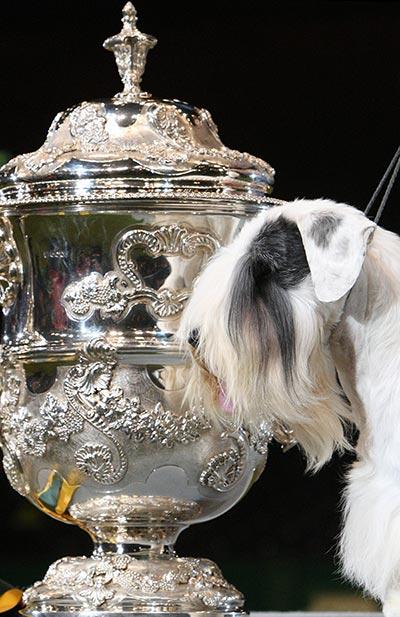 Our first time while we dreamed about it for years! Hey yes, the retirement is right!
We had not enough time to shopping, and watching animations... It would be necessary to take two days, one day without dog to visit all. No shame, we came for beardies!... And here, they are! 137 males, 162 females!... Everybody can't register at Crufts, so we find here the most attractive dogs of the moment... There is one judge for males (Mrs Wood, breeding Osmart), another one for females (Mr Moir, breeding Winaria), and a referent for the Best of Bred.
Dreams was in Open Class, 25 females, who passed after all the others at around 3 pm... She was as always, adorable, kind and very cool. She allowed me a "free" presentation of which I am very happy. No placement for us, but we didn't come for it. To be a part of this great Bearded Collie' day is already a reward in itself! The meetings with our English friends are the real enjoyment!
And finally to see again "Mum" Gill (Gill Burfitt, Breaksea Kennel) was a fantastic shared happiness!...
Dreams on the move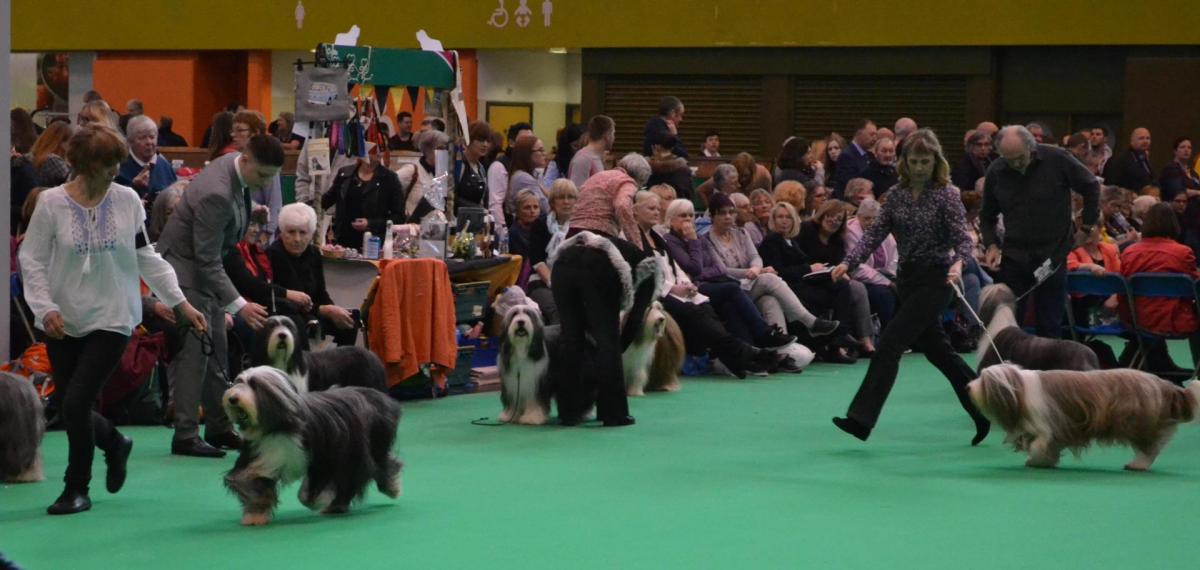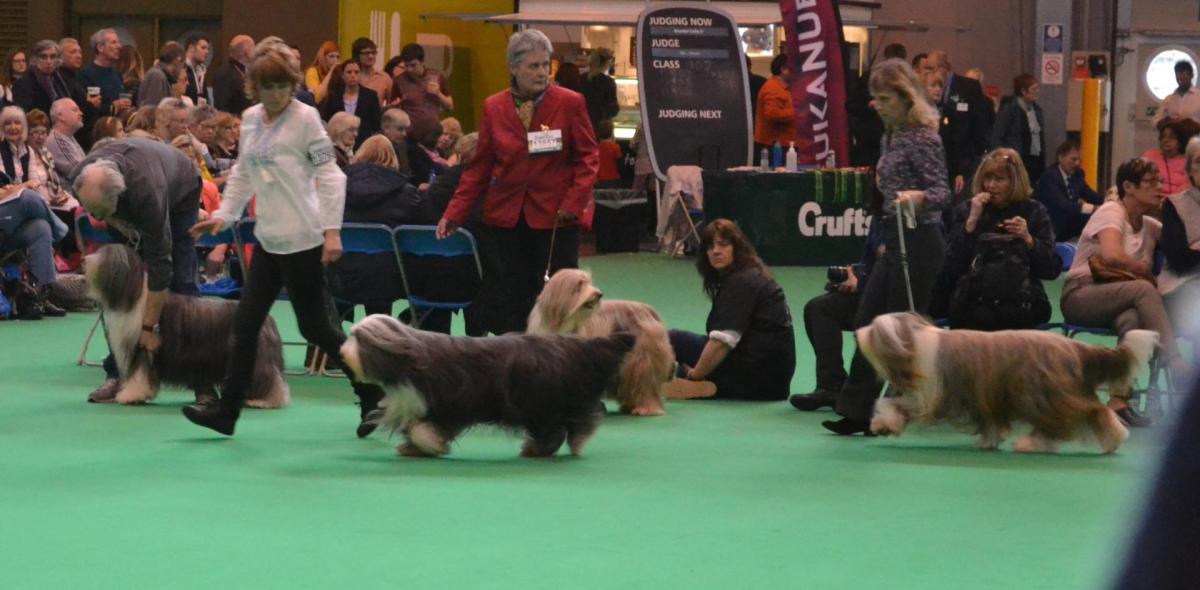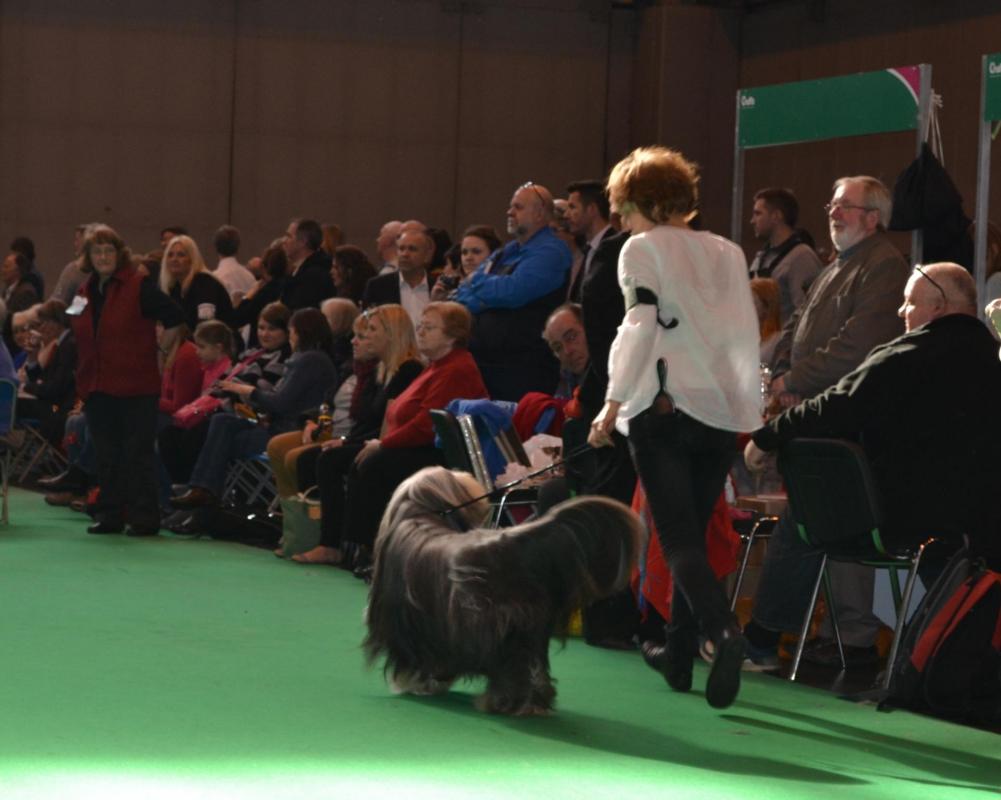 She is waiting, then ready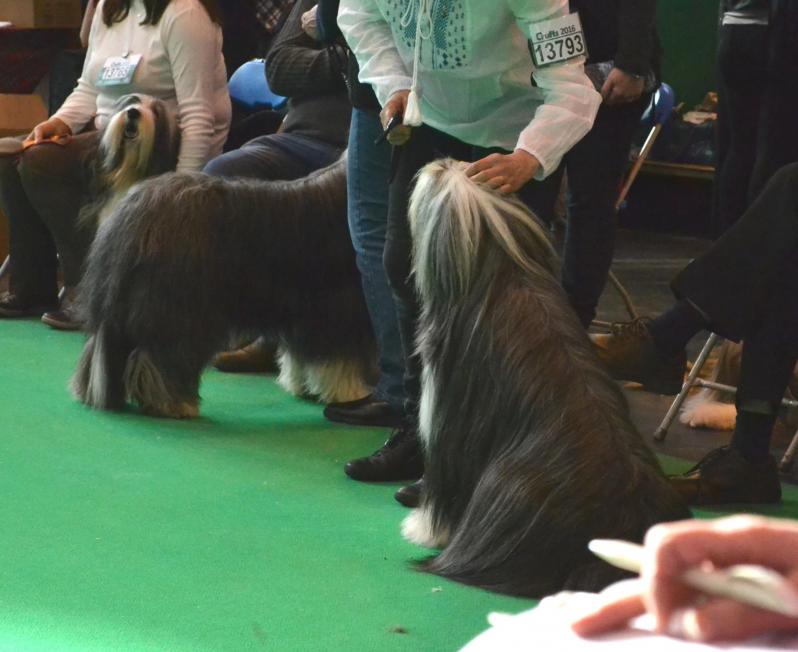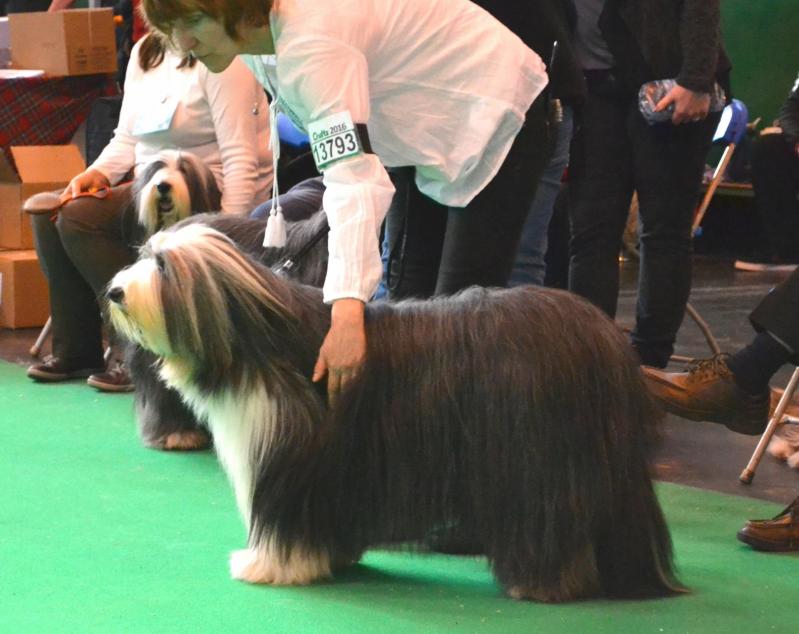 Everything was good!
The day ends with Open Dogs: 30 well deserved champions!... Here we are! Then you, small children of Cery and Eric, listen to the extraordinary story of your dad! Necessarily, your great dad Eric (CH GB SAMMARA OVER THE MOON) was in Open Class.
The tension rises little by little when the judge takes out the first dogs in his short list: Eric is there!

And the judge appoints him winner of his class!... Shouts of joy all around the ring, hearty applause!...
A few moments of peace, and every better dog of its class, from the puppy to the veteran comes again... Sublimate moment when we see all these fabulous dogs of various ages turning around the ring under the rhythmical applauses of the public! It is really magnificent!...
The judge has to choose one!... It will be...
CH GB SAMMARA OVER THE MOON!!!...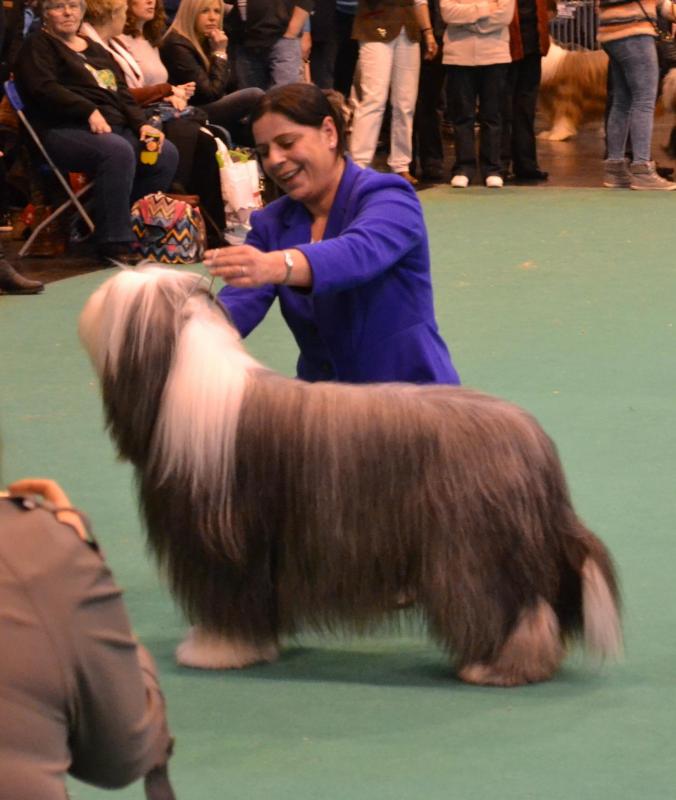 Fantastic! For our first time in Crufts, to be here, and see the consecration of our puppies' Dad, is completely magic!...
But it is not finished!!! Under the applauses of the public, the choice between the charming bitch who obtained the CC (HP GB POTTERDALE SEAGULL RINGSIDE RUMOUR) and Eric is going to be decided... I wouldn't want to be the judge...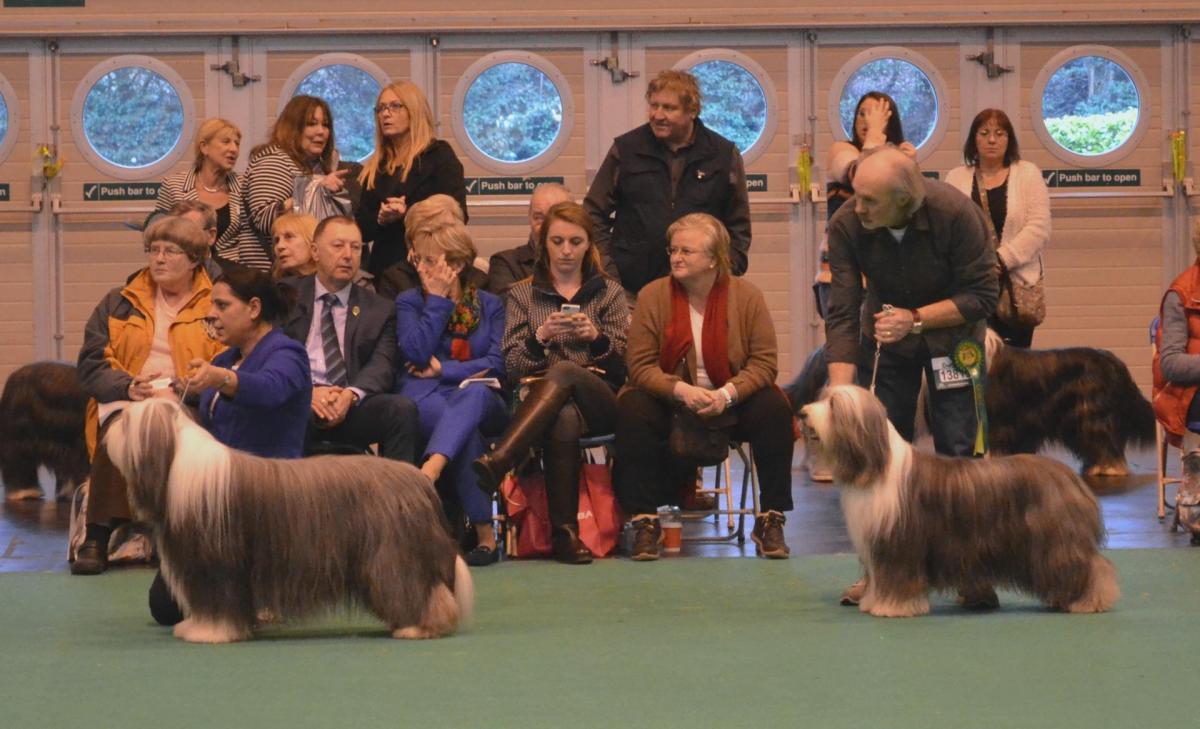 Ellie, Elodie, Lena, Alwyn, Hopper, Luka, Norman, yes, my beloved children!
Your adorable and magnificent daddy Eric became BEST OF BRED at CRUFTS!!!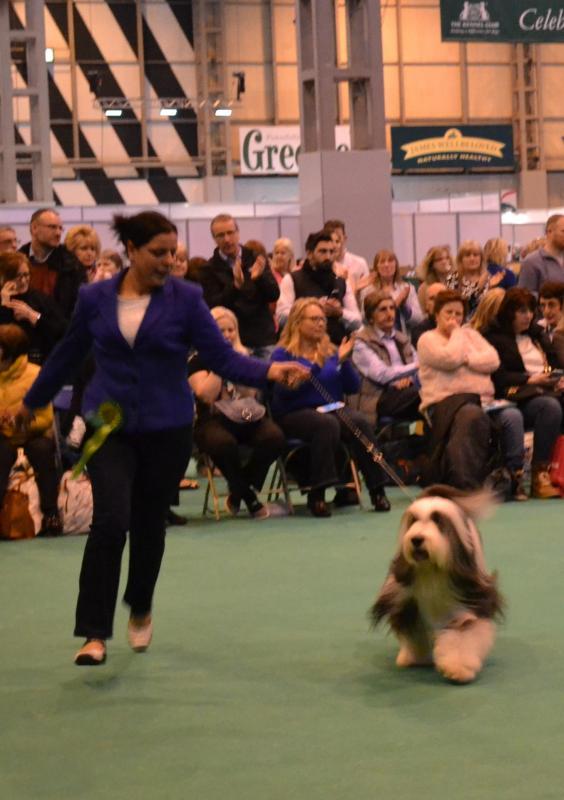 Around the ring with his Mum' Sarah Collins!...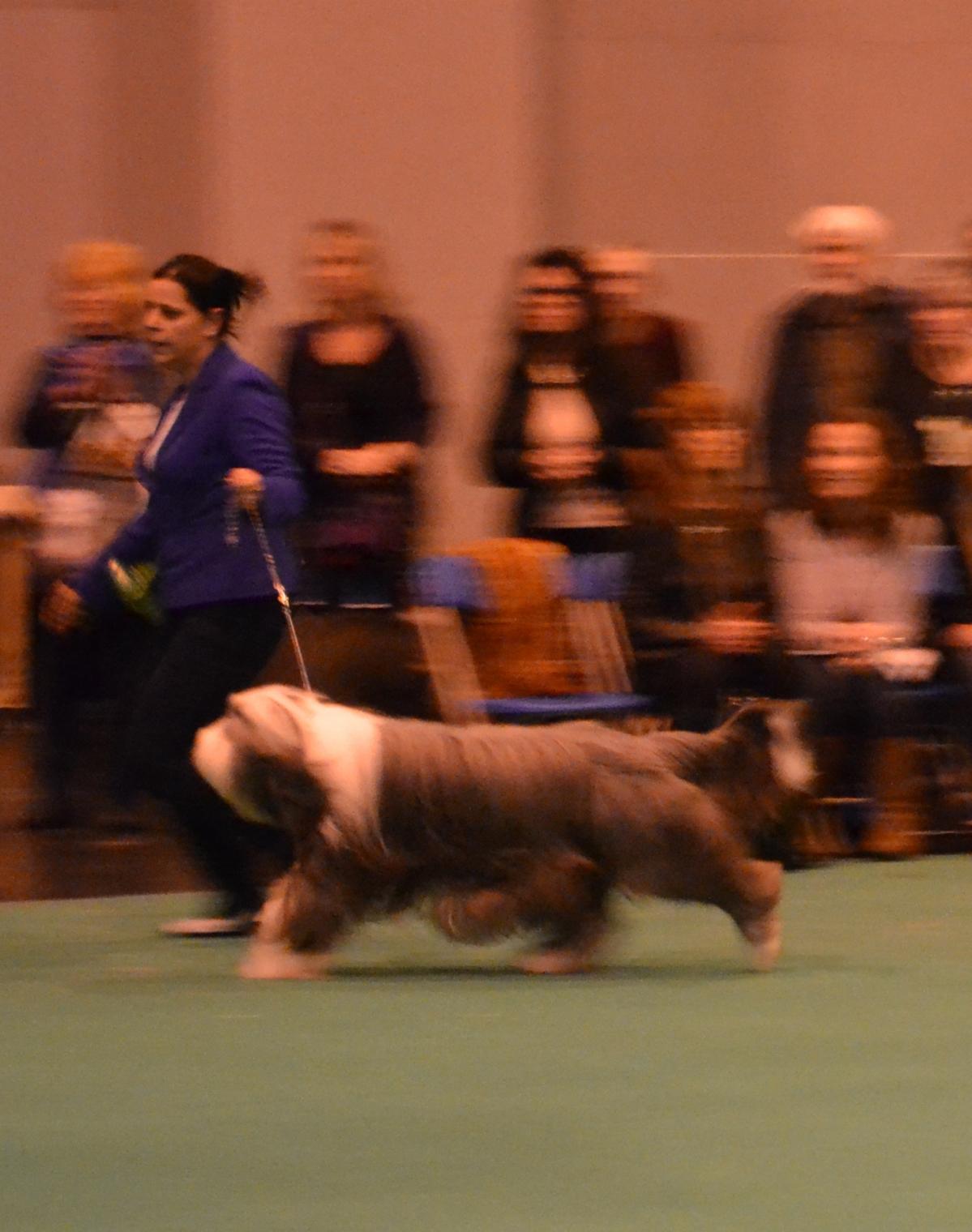 I would say almost that there was a "Kind of Magic" who floated on the breeze...
Elodie ( Lady Madonna du Calitchumbelet), one of our young ladies, daughter of Cery and Eric, began her showing career in Germany. In two shows, she was classified 1st excellent and 3rd Excellent in front of numerous bitches!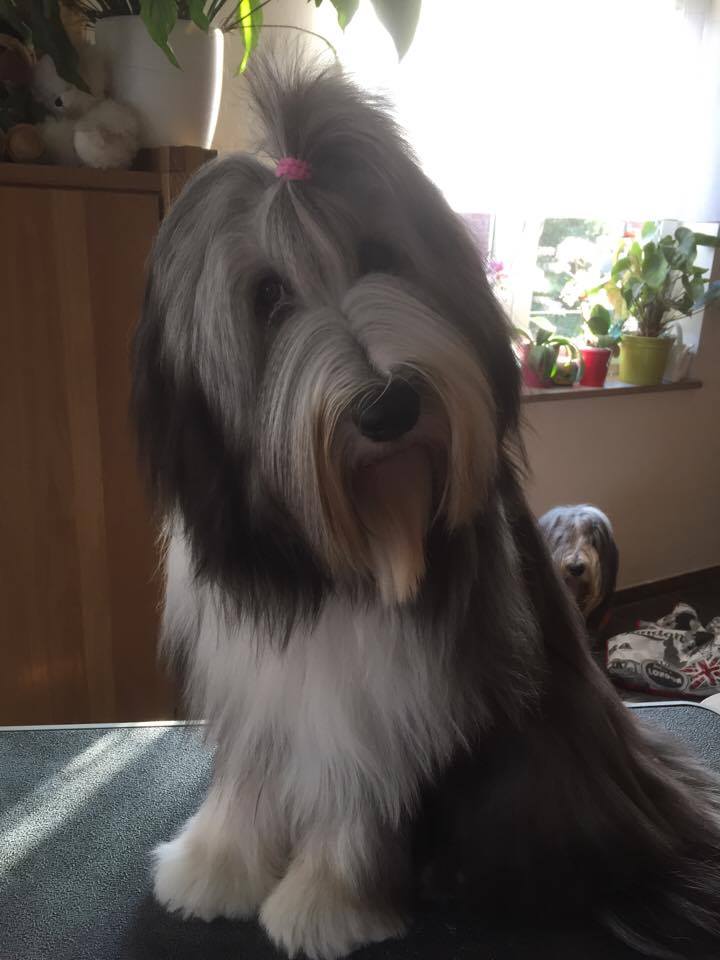 and her sister Elodie (Love Me Do du Calitchumbelet) is training for her next first show!
We are sure that they will know how to charm the judges!...
Thanks to "our families" to take so well care of our babies!...