Avril 2015
Avril 2015
They were born!...
March 29th, Cerydwen has some difficult with very poor contractions. Sadly, we lost the last two puppies. The birth was too long for them... We are very disapointed...
Hopefully, Cerydwen is very happy to have her seven wonderful puppies, 3 girls and 4 boys, all black and white, very beautifully marked.
They are very healthy, and immediately, they went up the milk bar... open 24 hours a day!... What tiring nights... Milk and sleep, milk and sleep again for them... but no sleep for us, we keep an eye on their precious lives.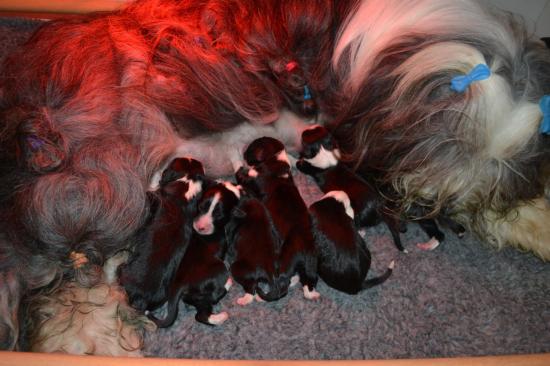 Just after the birth...
and the next day...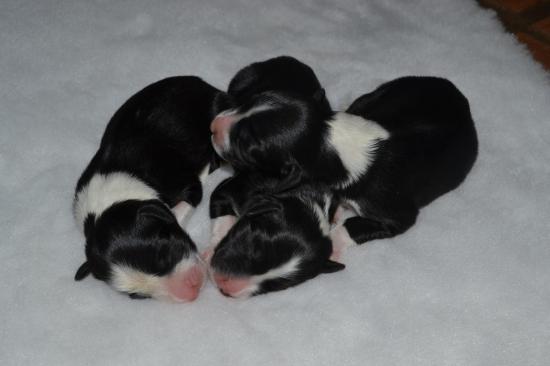 Nice girls...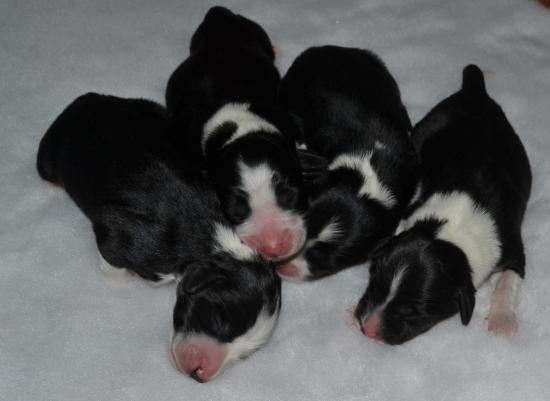 and beautiful boys...
~~~~~~~~~~~~~~~~~~~~
Four days old: they wag their tails!...
Some other videos are here.
Ten days old...
Time flies... and our little precious babies are beginning to stand up!... So lovely...
And we imagine when they will move like her gorgeous half sister Heather (daughter of CH GB Potterdale Prodigy and CH Breaksea Kind of Magic).
She went to visit us during her owner's holidays, and we were happy to see her!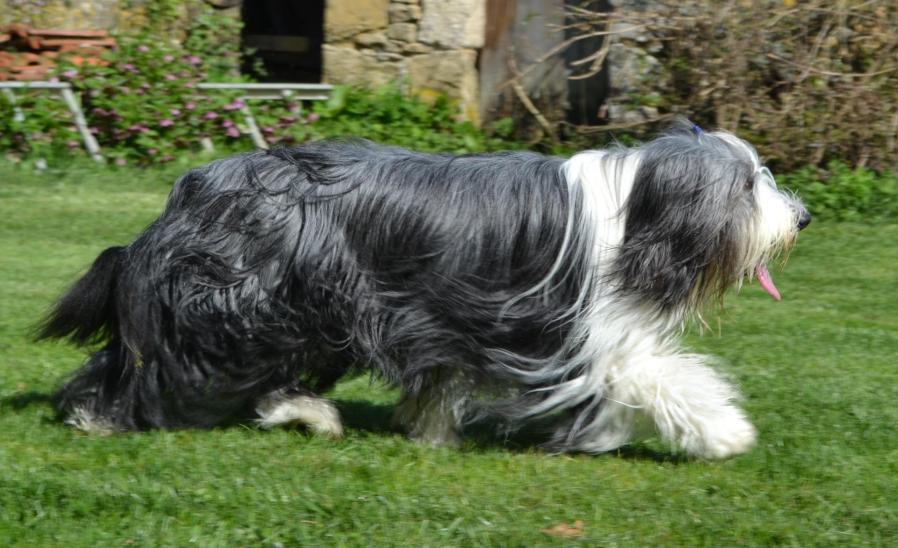 Mummy has a rest...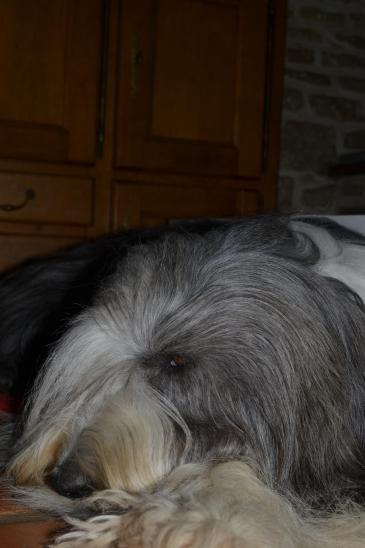 and puppies too...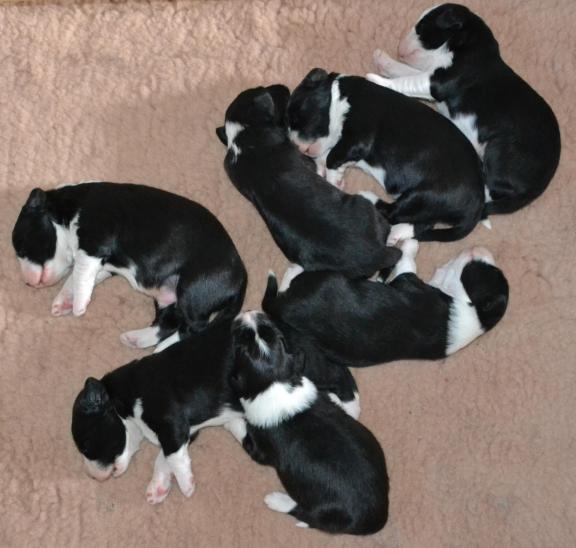 Cerydwen likes to go for a walk with Jean-Yves. During this time, I have to check all puppies and clean the box. She accepts if I do cuddles puppies but she doesn't want that I take them in my hands. She's too afraid to lose them...
This morning, a puppy makes tears on my eyes when he followed my hand to keep a contact...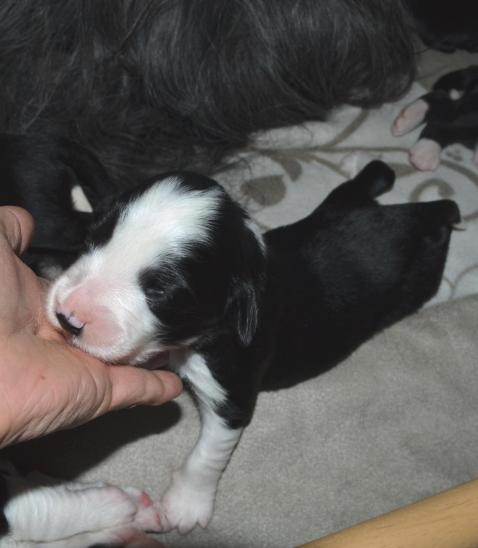 "I can't see you, I can't hear you, but I recognize you, and where you will go, I'll follow you..."
Some photos at ten days old...
Here is a video where you can see that our puppies like their Milk Bar! But what happens?...
They drink, and it looks like they get drunk!...
We live in Normandy. It's the country of cider and Calvados . Sometimes, I wonder about Cerydwen's milk... Is there some Calvados in her milk?... You can see it for yourself!...
First, Mum did her job...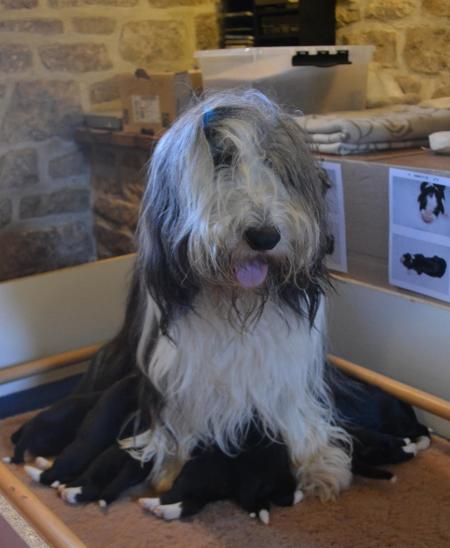 Then, we laugh...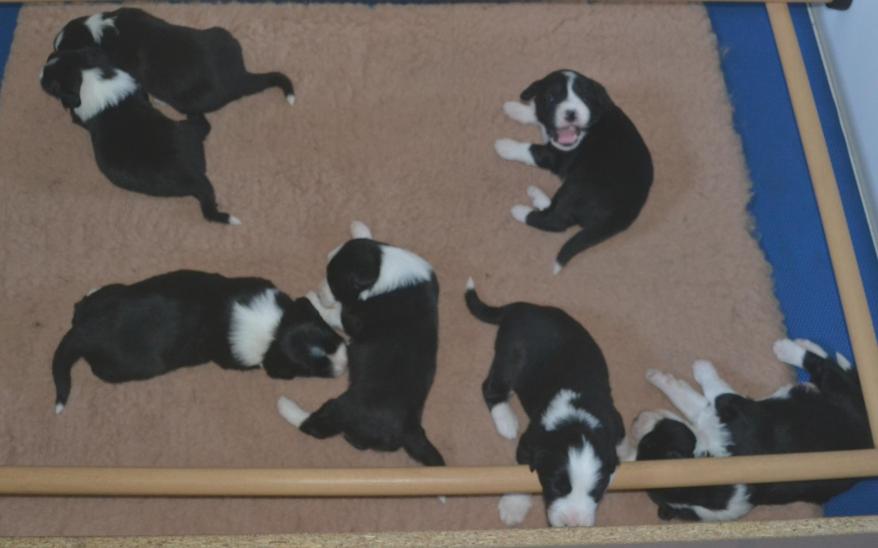 2 weeks old, they take their first steps, really cute...
Three weeks old...
A puppy told us: "Here, it's too small!... We want to come in the great world!"...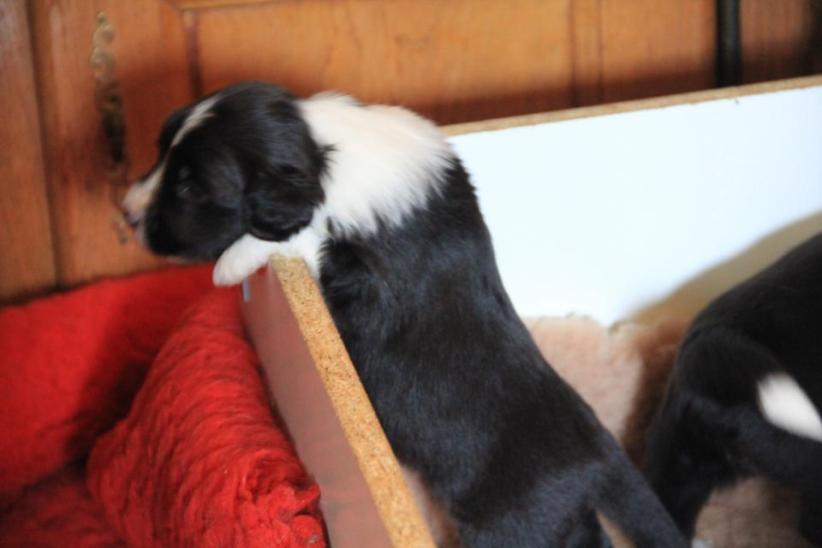 So, we made a large pen for them, and our little treasures begin to run around. They like their sheep' skin for sleeping and they keep it very clean. I put newspapers as a toilet space, and some of them use it. Obviously, not everybody has understood!
Here is a video of our puppies playing in the pen.
Puppies are four weeks! They have to heard noises, to watch things...
What is this?...
~~~~~~~~~~~~~~
This morning, Cerydwen gave one piece of chicken to her babies... She knows that they have teeth, and need to use it!
~~~~~~~~~~~~~~~~~~~~~~~~~~~~~~~~
Socialisation: Corentin visited puppies!...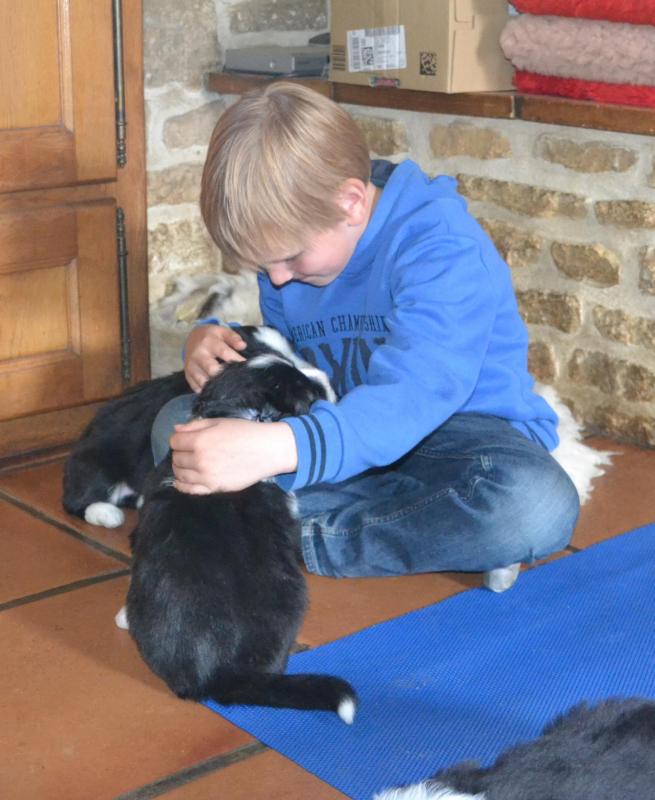 Laurence and Herald visited them.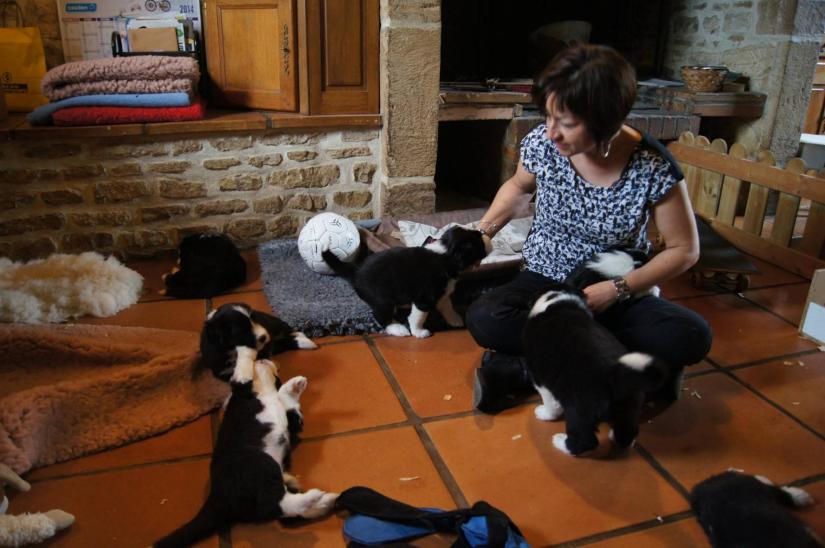 And the evening, a little time to play before turning off the lights...
Good night, puppies...