News 2014
Happy New Year!!!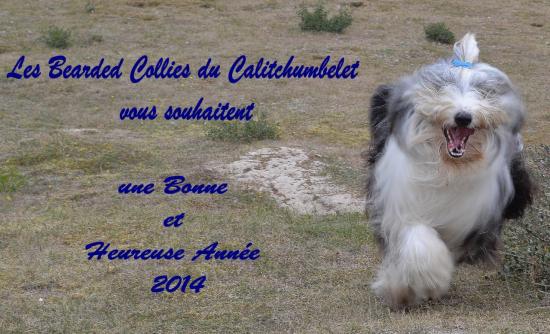 Some news from Cerydwen and Charlie's children, now adults beardies.
H'Kup, HD A/A.
She's planning some shows in 2014!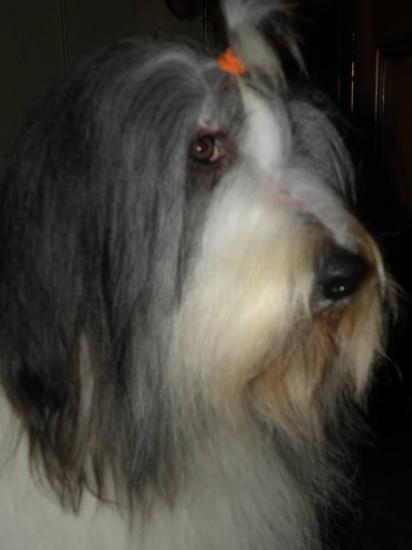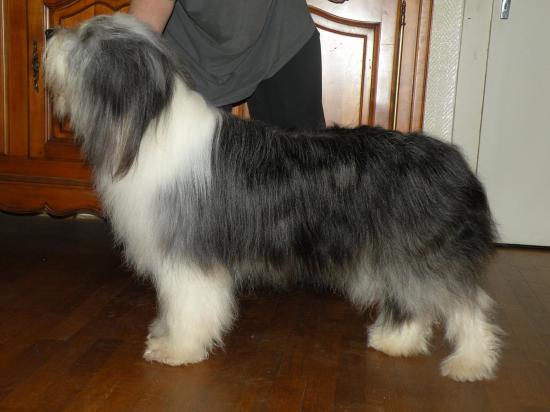 Hooded Man (Robin)
won RCAC  at Kaunitz Show, in Germany. Congratulations!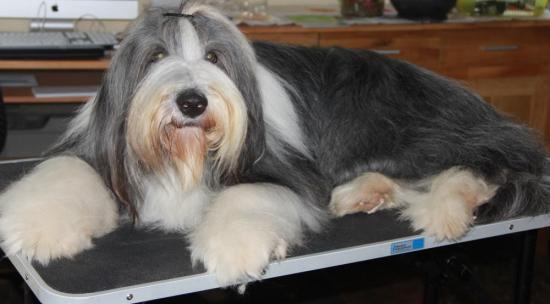 Hoalen
had a nice day at the beach, and she's resting on her sofa!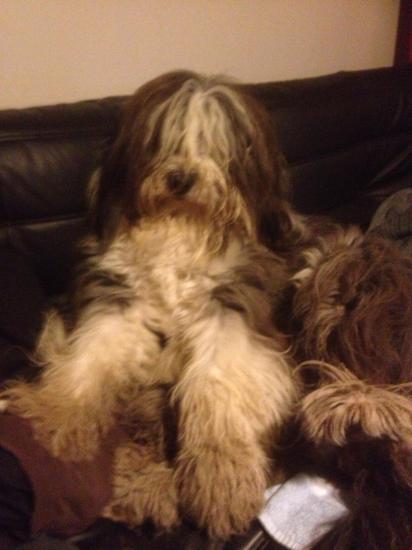 Here is Hibiscus,
the charmer...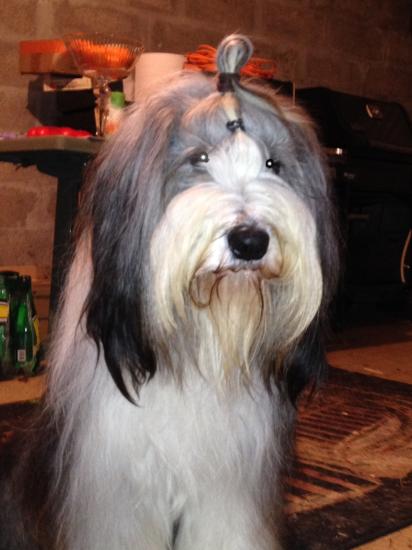 Heather
always in action!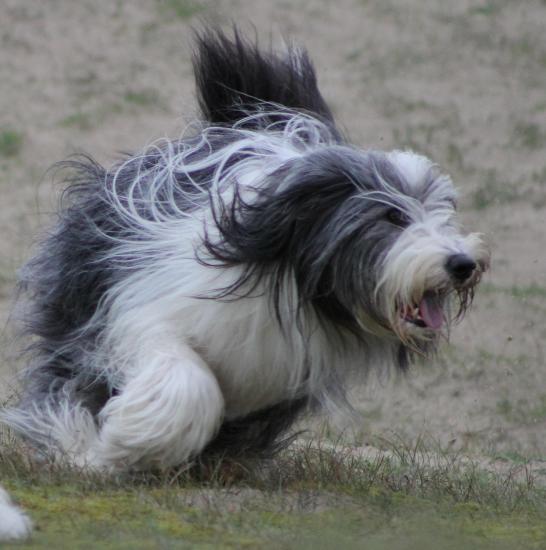 And our girls:
Hope and Dreams...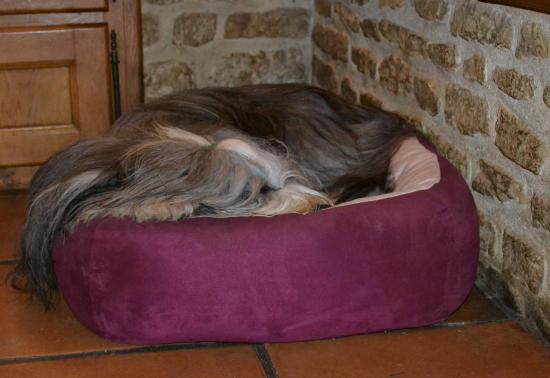 Exhausted!... Herding, grooming, sleeping...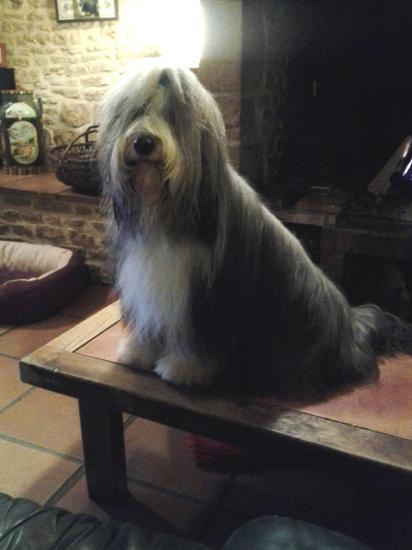 Now a face of young girl...
and Hurdy Gurdy:
"I too can be a boaster on the table!..."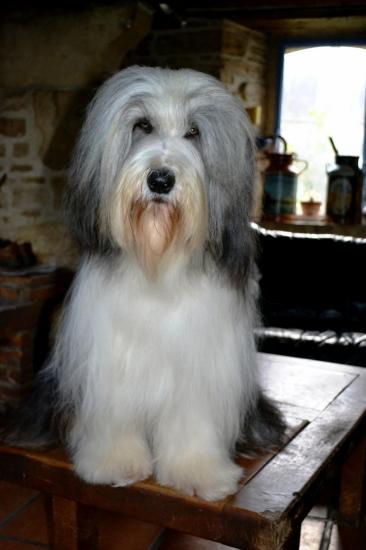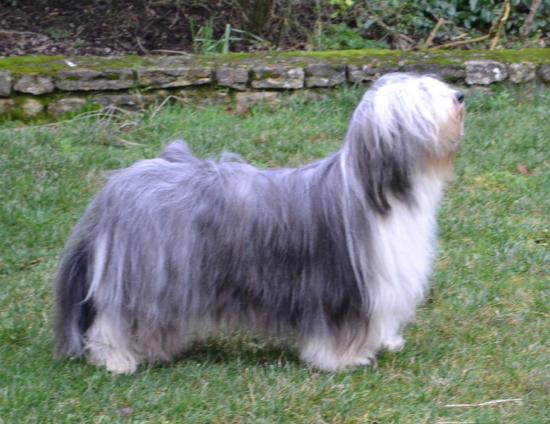 "And I'am training for shows, without leash, just listening Mummy
... but I prefer to play and mess up my hair!"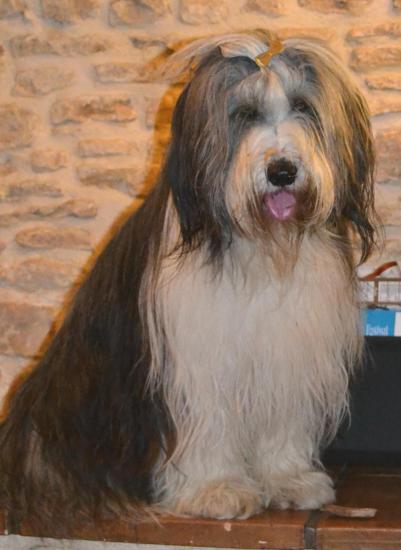 We ate the "Galette des rois", and who became a queen?...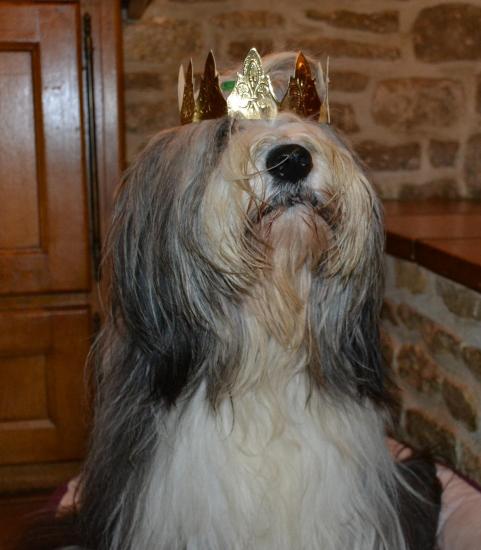 Dreams of course!
~~~~~~~~~~~~~~~~~~~~~~~~~~~~~~
Happy Valentine's Day from Cerydwen!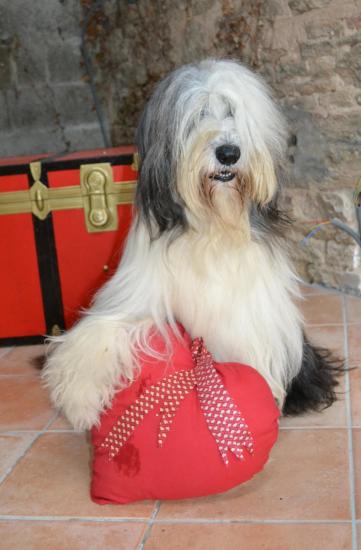 ~~~~~~~~~~~~~~~~
 Many congratulations to Indie (CH GB Nellbrook Imagination JW ShCM)
and her proud owner Nellian Edwards for their wonderful results at Crufts!
She's a little cousin for Cerydwen because the beautiful CH GB Breaksea GI Blues JW (Presley) is her father.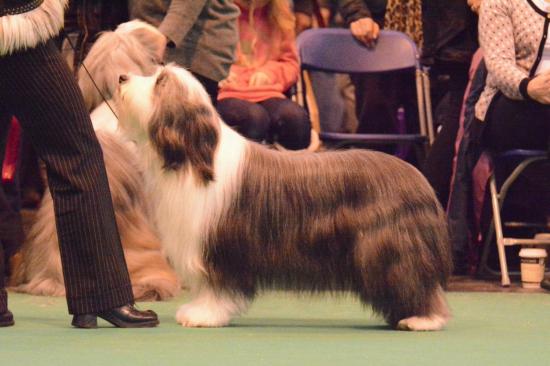 Indie (CH GB Nellbrook Imagination)
Best Bitch, Best of Bred, and Best of Group 2 at Crufts !!!
~~~~~~~~~~~~~~~~~~~~~~
March 20th...
Happy Birthday!
The lovely puppies of Cerydwen and Charlie (CH GB Potterdale Prodigy) are now 2 years old!
Here are some pics of our girls...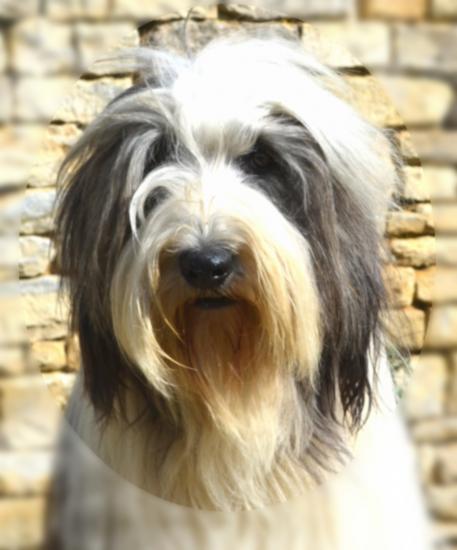 Mummy Cerydwen, 6 1/2 years old
CH INT Breaksea Kind of Magic (HD A/A)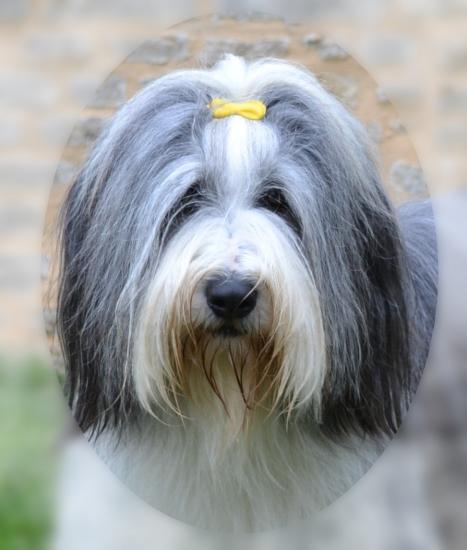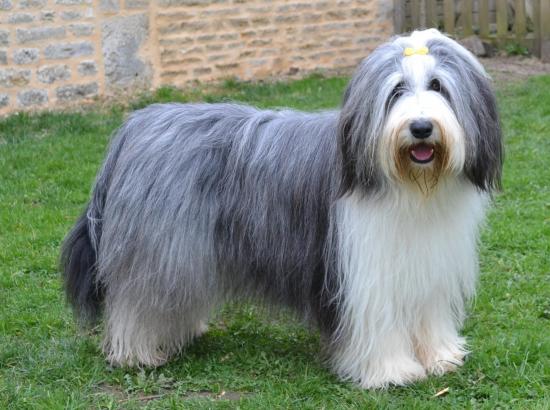 Hurdy Gurdy du Calitchumbelet (2 years old)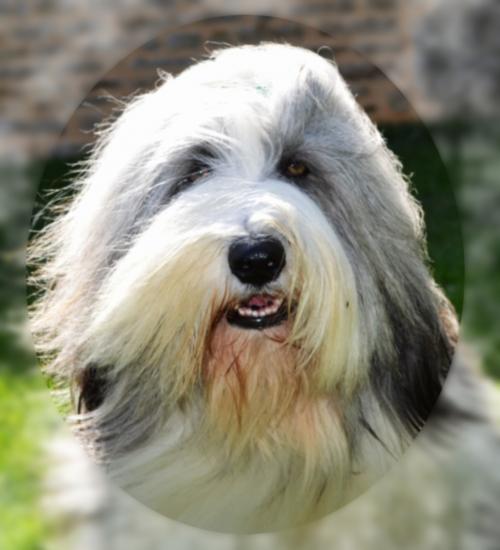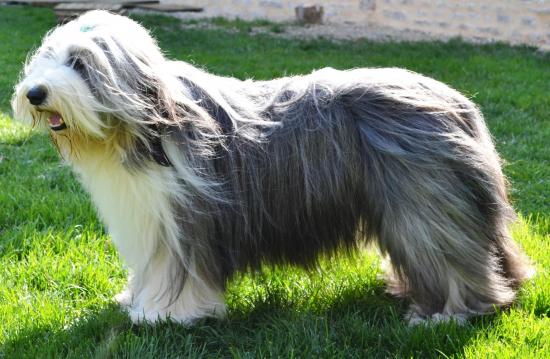 Hope and Dreams du Calitchumbelet (2 years old)
~~~~~~~~~~~~~~~~~~~~
We hoped to get a new litter with Cerydwen, but after a scan, we were very disapointed because there is no puppies...
Very sad new...  The next time will be good.
But Cerydwen is happy, she goes again to herding and dancing, with her likely twists and turns!
And as we have no puppies, we can going to shows, with Dreams for the moment!
We were at Limoges and Dreams won the CACIB! We are very proud of her!
She likes shows and has any stress when she's on the ring...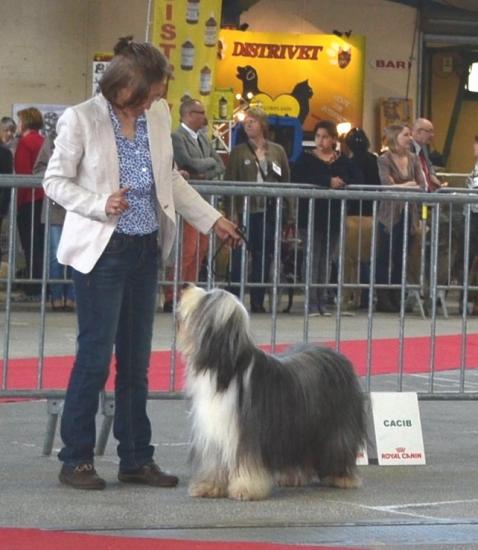 ~~~~~~~~~~~~~~~~~~~~~~~~~~
Some Calitchumbelet's showing with good results!
Robin (Hooded Man) won RCAC at Vellberg in Deutschland (the judge was R. Blessing), and his result for dysplasia is HD A.
We are very proud !
All his pictures are here!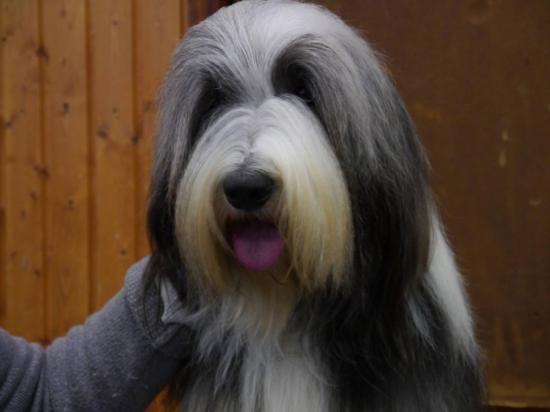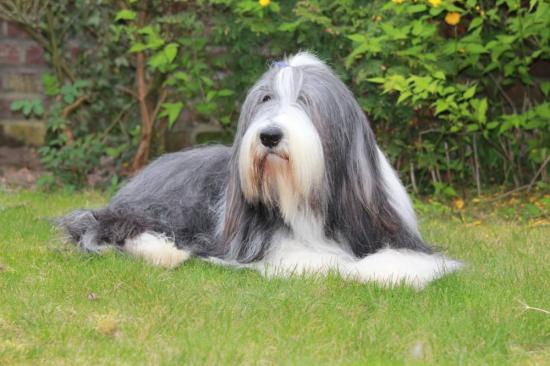 National Bearded Collie French Club,
in the same day, 3 shows under 3 jugdes.
They were: Mrs Atkins (UK), Mrs Roser (F) and Mr Renaux (F).
H'Kup became Excellent and  "3 points" at the National Bearded Collie French Club. Congratulations!
Her album is here!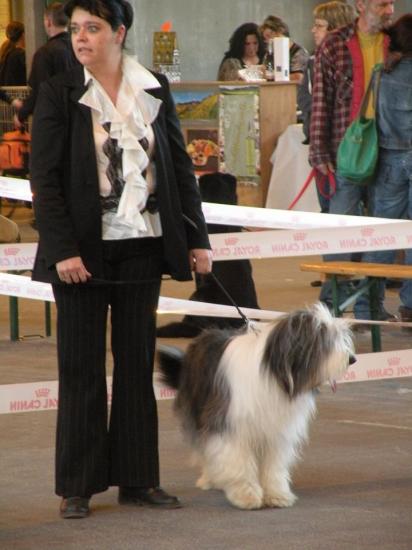 And our delightful Dreams entered in the Club Selection, and if her HD is good, she'll become "Recommandée 4 points"!...
We are very proud of them!...
~~~~~~~~~~~~~~~~~~~~~~
D-Day 70th anniversary... very important for us. 
The nice church of Sainte Marie du Mont

Utah Beach...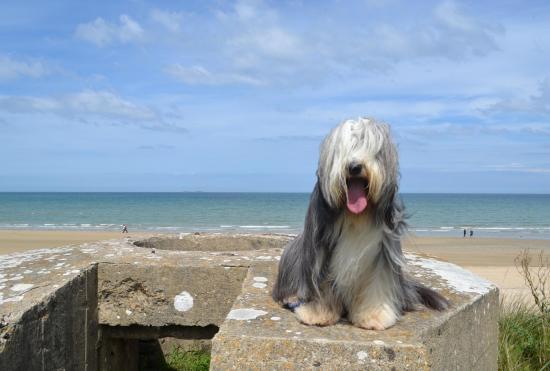 Dreams off Utah's landing coastline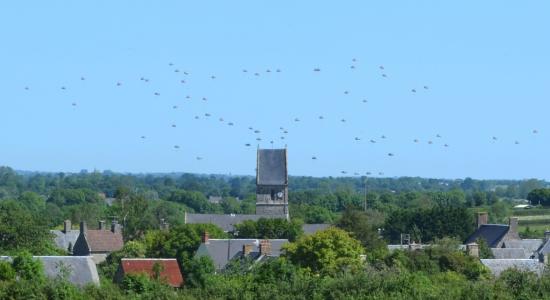 International military parachute drops over the historical La Fière drop zone
~~~~~~~~~~~~~~~~~~~~
Dreams and Hurdy running in the marshes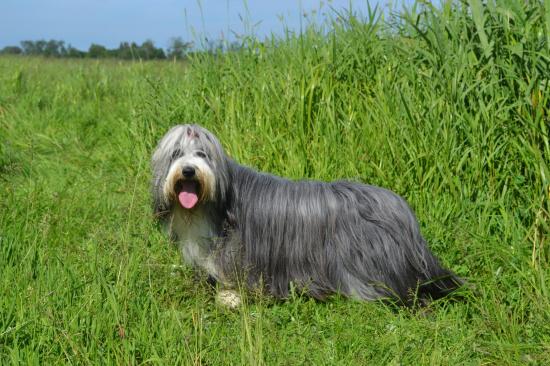 ~~~~~~~~~~~~~~~~~~~~~~~~
World Cup !!!
Our beardies love football! But they are discovering a new canine sport: Treibball !
You can watch some videos at the start.
Cerydwen
Dreams
and Hurdy
~~~~~~~~~~~~~~~~~~~~~~~~~~~~~~~~
July 14th is the French National Day.
Hurdy was very happy to play "Miss France" of the day in a dog Show, at Maltot!
She won the CAC and BOB, we are very proud of her!
As she is a very good girl, I wanted to try an Obedience Certificat, the first one, for me and her!
She was very quiet and attentive, and she succeeded her challenge! Well done, Hurdy!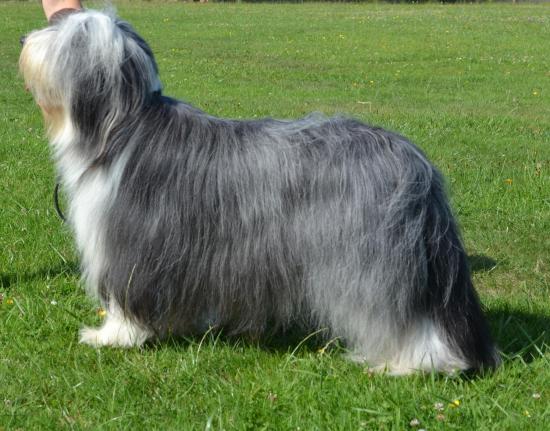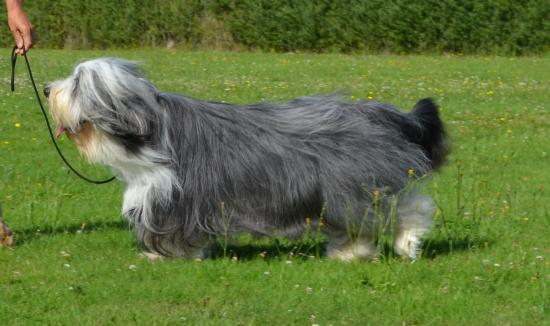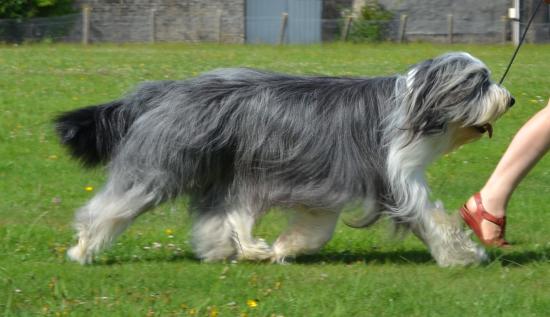 Meanwhile, at home...
Cerydwen watched the comings and goings of cats near our house and tractors on the road.
She likes when all looks neat and tidy!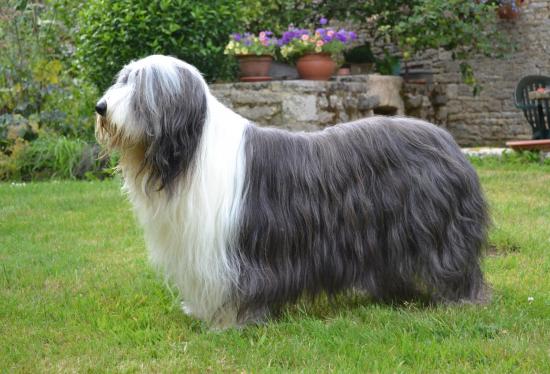 And our darling Dreams, the business woman, helped to water the garden!!!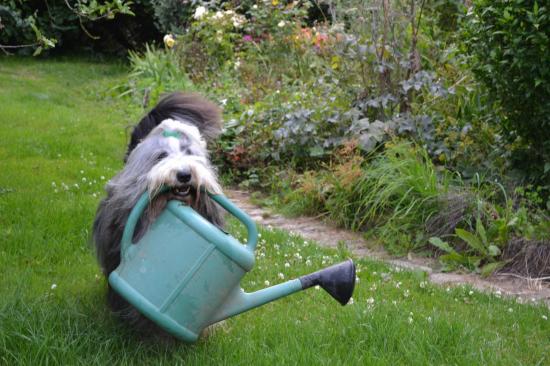 ~~~~~~~~~~~~~~~~~~~~
Any show for this month, but HOLIDAYS!!!
We were in Alpes with our beardies, a very good time with hiking in the moutains...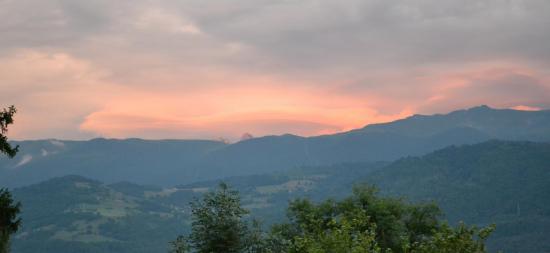 Cerydwen, as usual, watched if a cat lived at the neighbor's...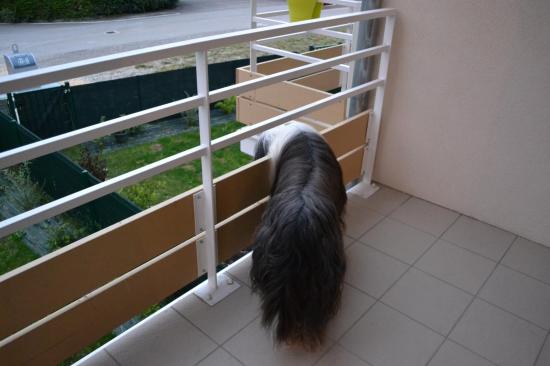 "Oh yes! They have a cat!..."
Hurdy trained our girl for her next trail...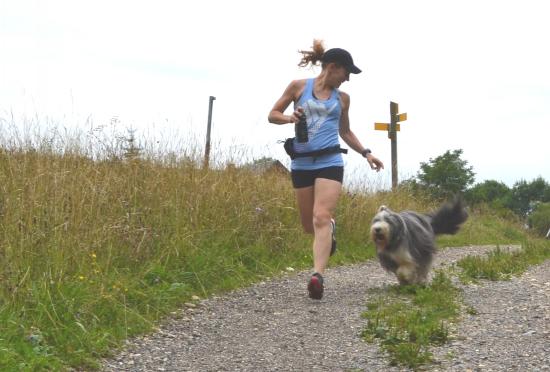 "She's running so fast, just like ewes!..."
And our little clown, Dreams, made us laugh.
After a long hike, we rested on the terrace.
Jean-Yves put his glass of very fresh grenadine near him, then we heard a little noise...
"Plop, plop, plop..."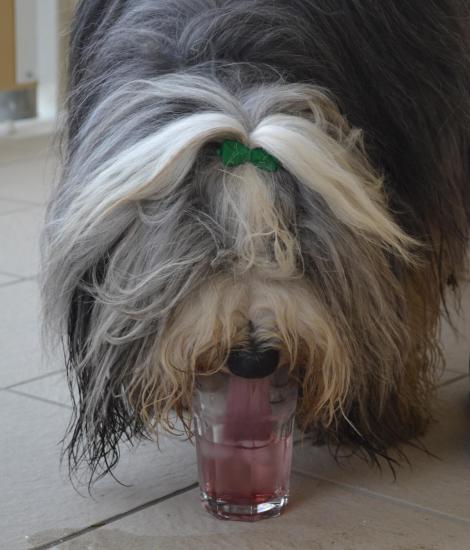 "Mmmm... Grenadine with ice cubes... My daddy thinks of everything..."

There is some others pics here: Alpes 2014
"Listen, Playmate, Dreams has something to tell you!..."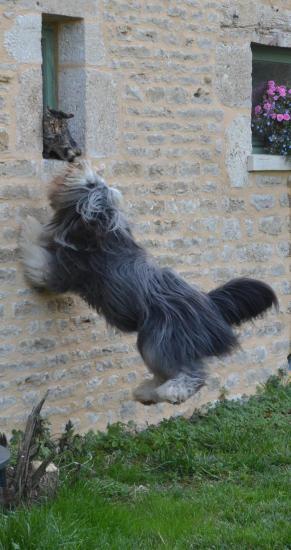 Every morning, we go jogging. This is our training for dog shows.
When Mum put on shorts, I run and bring her shoes!...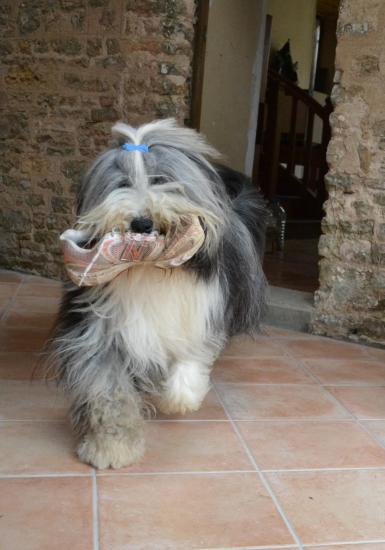 "Hurry up, Mum!..."
Indeed, there was a show... in Spain!
And I won my 4th CACIB, so I am now International Champion!!!
They are very proud, because I'm only 2 and a half!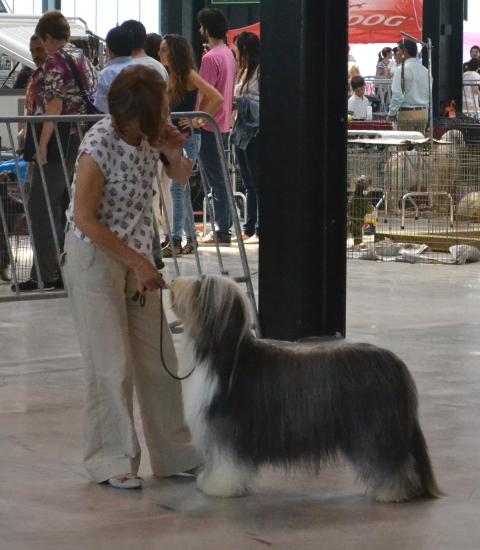 We had a long trip, and I was very tired!
"What about a nice bottle of Champagne to celebrate, Demoiselle? All right, but I stay in the bed!!!"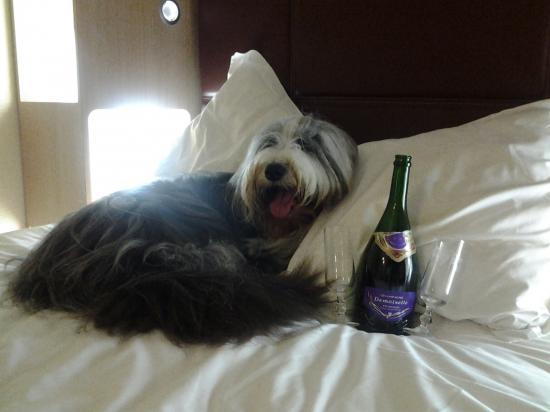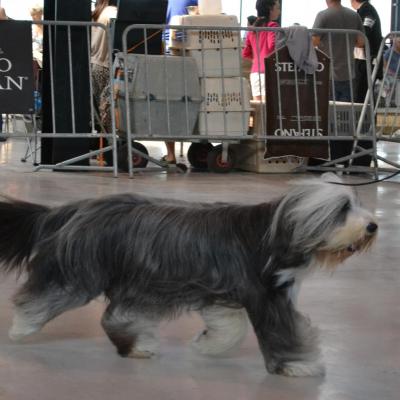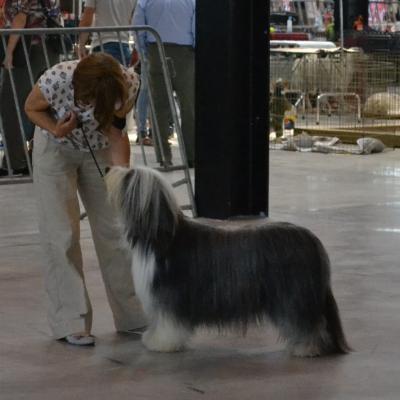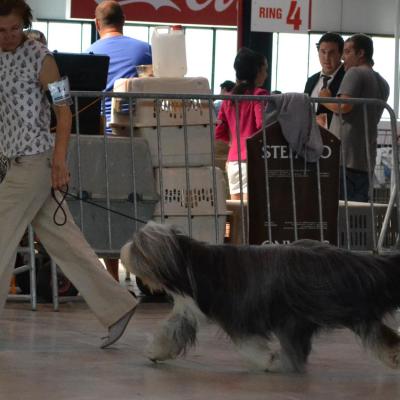 ~~~~~~~~~~~~~~~~~~~~
Congratulations on H'Kup , sister of Dreams and Hurdy, who won RCACIB at Pontoise.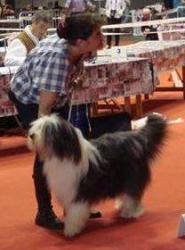 ~~~~~~~~~~~~~~~~
We just received HD results for Dreams and Hurdy! Very happy to see that they are both HD A/A.
Here are the HD results of Cerydwen progeny:
Hope and Dreams: A/A
Hurdy Gurdy: A/A
H4Kup: A/A
Hooded Man (Robin): A/A
~~~~~~~~~~~~~~~~~~~~
A lovely smile from Hoalen, a sister of ours... She is the true love of her owners...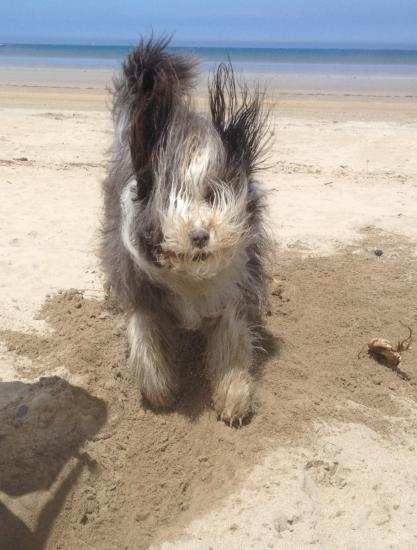 ~~~~~~~~~~~~~~~~~~~~~~~~
Happy Birthday to Cerydwen!...
7 years old!... Time flies!
We offered her a candlelight dinner, and an apple pie which she likes!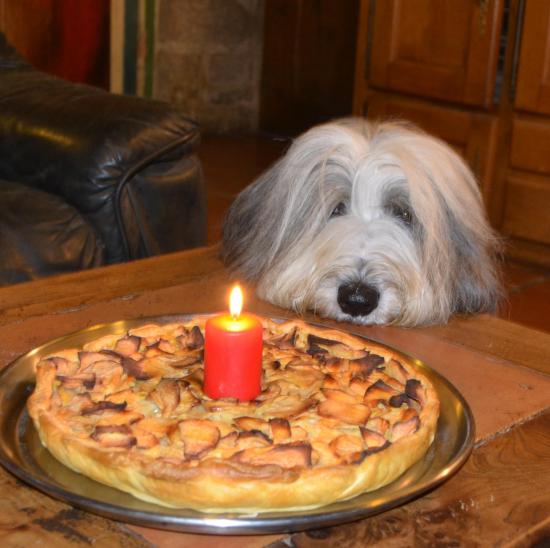 Champagne for other great news!!! Cerydwen and Charlie can be proud!
A second Champion made up at Calitchumbelet kennel!
Hooded Man (Robin) became Romania Champion!... 
October 18th
CACIB Arad (Romania)
Open Class
Hooded Man du Calitchumbelet
V 1, CAC, CACIB, BOB and Group 3
October 19th...
V1, CAC, CACIB, BOB
and Group Winner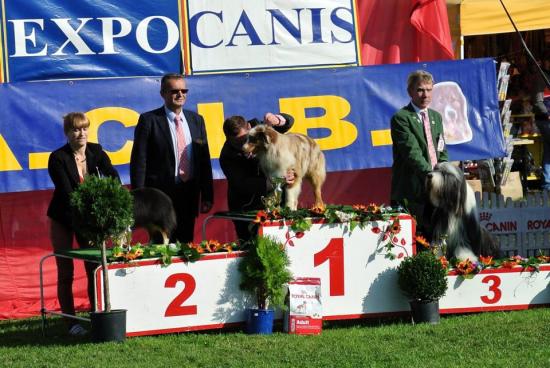 Robin is proudly owned and loved by Monika and Willi in Deutschland (Sunpoint Bearded Collies)
We are very happy, and give many thanks to Monika and Willi who take care of him.
So, you can admire news pics in his photo album, here: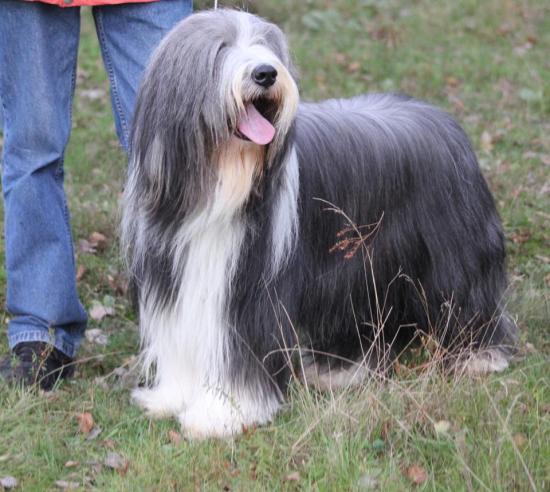 ~~~~~~~~~~~~~~~~~~~~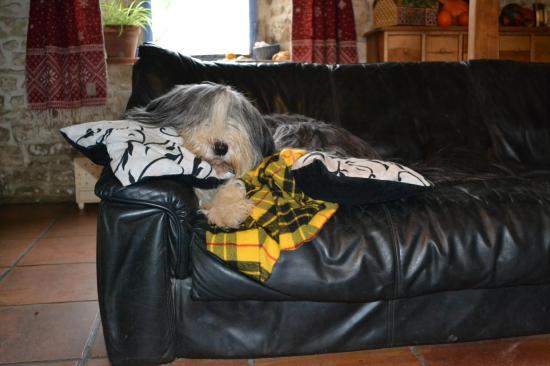 Hurdy: "Let me sleep on the sofa... It's raining..."
~~~~~~~~~~~~~~~~~~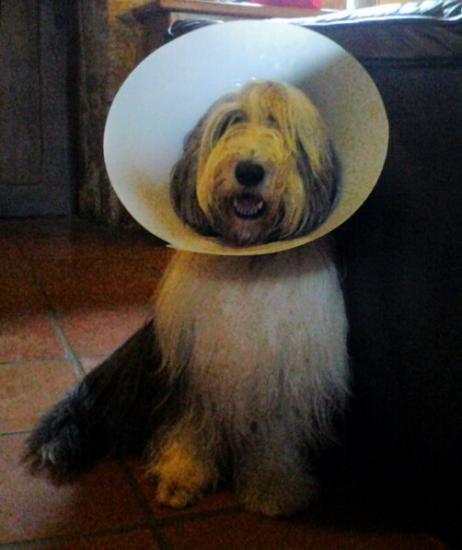 Our unlucky Cerydwen was bitten by a cat! She had an infection on her paw and had to wear a sort of collar...
Any difficult for her. We took the clicker, and she played to put her head in the collar! The video is here!
Hopefully, Cerydwen is very healthy now!
~~~~~~~~~~~~~~~~
Dreams loves herding!...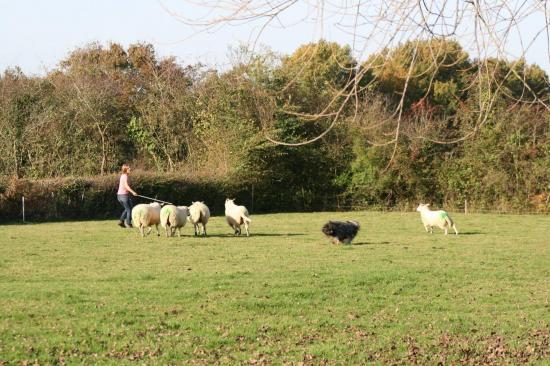 Some pics here.
~~~~~~~~~~~~~~~~~~~~~~~~
Our beautiful Dreams was showed at Rouen with a third place,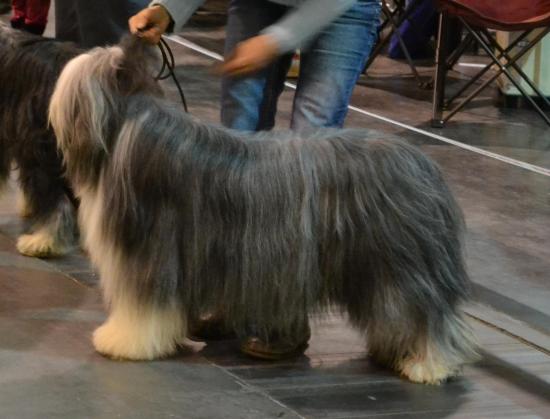 and she took the second place at Nantes, with RCACIB.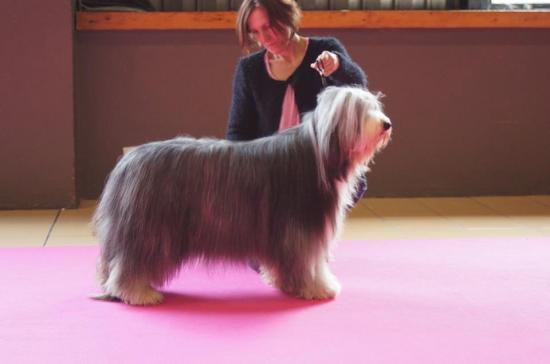 Not only dog showing in our life... We love fun, and our beardies are the funniest dogs!...
We give you this Christmas present!...
And Heather is looking forward Christmas Day!...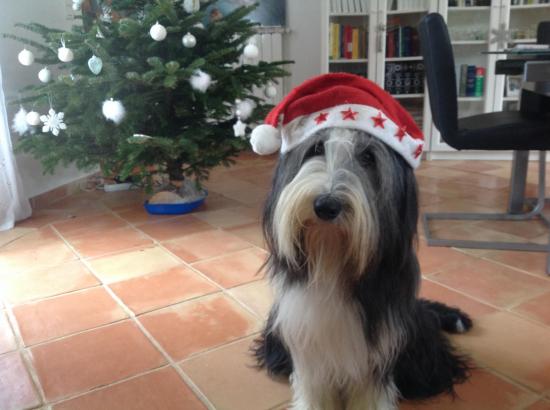 See you next year!...