Bearded Collies du Calitchumbelet
For our foreign friends, there is a little symbol up right for get the English language.
Sorry, I didn't translate all the pages. But on the french pages, you can watch many photos, and you can go to more Album photos, and Videos...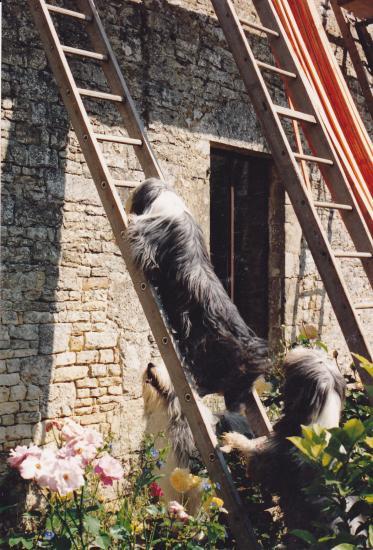 Cartoon, our somersaulting bitch!
We are very happy to share these pages with you and to show you our small family run kennel
and the dogs who make us so happy.
Bearded Collies came into our lives in 1987.
You can read our story here and discover the dogs who have made us what we are and who we will never forget.
 There is some advice which we think is important if you are thinking of buying a Bearded Collie.
And meet Cerydwen, our magical Welsh Bearded Collie, soon to have her own babies
and other information about us which we thought you might like to share.