Our story
My name's Michelle.  I married Jean-Yves in 1978.
Some friends gave us a very special wedding present: a whippet puppy called Ouilhad...
In 1981 Sikkim the Briard came into our lives. She was a marvellous nanny for our two young children.
We discovered Bearded Collies at a dog show in 1986. Their character, the shaggy coat...we immediately fell in love with the breed.
In 1987 Ca Cartoon came into our lives. Our happiness was complete...

We chose our affix: "du Calitchumbelet" because of the acrobatic antics of Ca Cartoon. It's from an old Norman dialect which means "somersaults" and we think it goes very well with the exuberant nature of the Bearded Collies.
Over the years our family of dogs has grown and the Bearded Collies have become a fundamental part of our lives.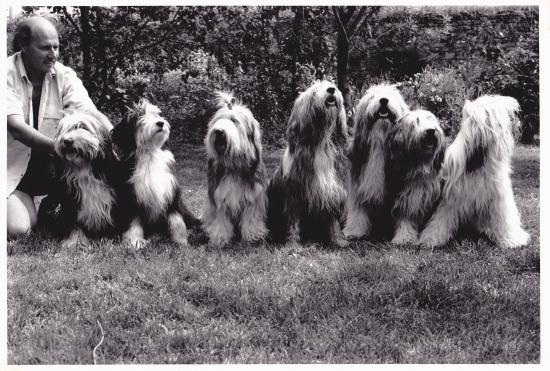 We have taken part in many dog shows in France and abroad.
Excalibur secured his title of International Champion in 1993. A number of delightful litters have been born at our house and these puppies have gone on to be the pride and joy of their owners. Some owners have become good friends too.
Whilst our children were growing up we chose to have a break from breeding so that we could give them more of our time.
For about twelve years our Bearded Collies lived happily alongside us...the time flew past for us and for them and sadly they have left us now.

So we thought about having a new puppy. We knew that the adorable Pitchoun, now all alone, would love to have a new companion.
In 2006 things started to happen. I celebrated my 50th birthday and the family got together to give me a wonderful birthday present: a Bearded Collie puppy! They left it to me to choose the breeder.

For a long time Gill and Alan have woven a rich thread of excellent pedigree lines at their kennel on the Isle of Anglesey, breeding strong and beautiful Bearded Collies. I was completely won over by Balidom Conquest, with his kindly expression. It's through his mother that I discovered the Breaksea Kennel and the Bearded Collie of my dreams.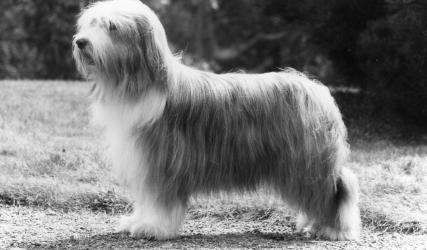 Breaksea Enchantress, my dream come true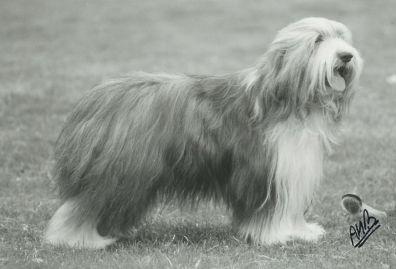 And Balidorn Conquest, her son by Potterdale Conclusion

We made contact with Gill to reserve a puppy. But Mother Nature made us wait a further year before our dream could become reality...

On 28h December 2007 Breaksea Kind of Magic, the little Welsh puppy, arrived to conquer Normandy!
Sadly, despite his best efforls, our beloved Pitchoun passed away two days earlier...
 
We turn the page and a new adventure begins.