Mai 2015
May
Puppies are 5 weeks old!... They are training to stand, and here are some photos of our puppies like show's puppies!...
Evening at home... Puppies watch the TV, and we watch the puppies...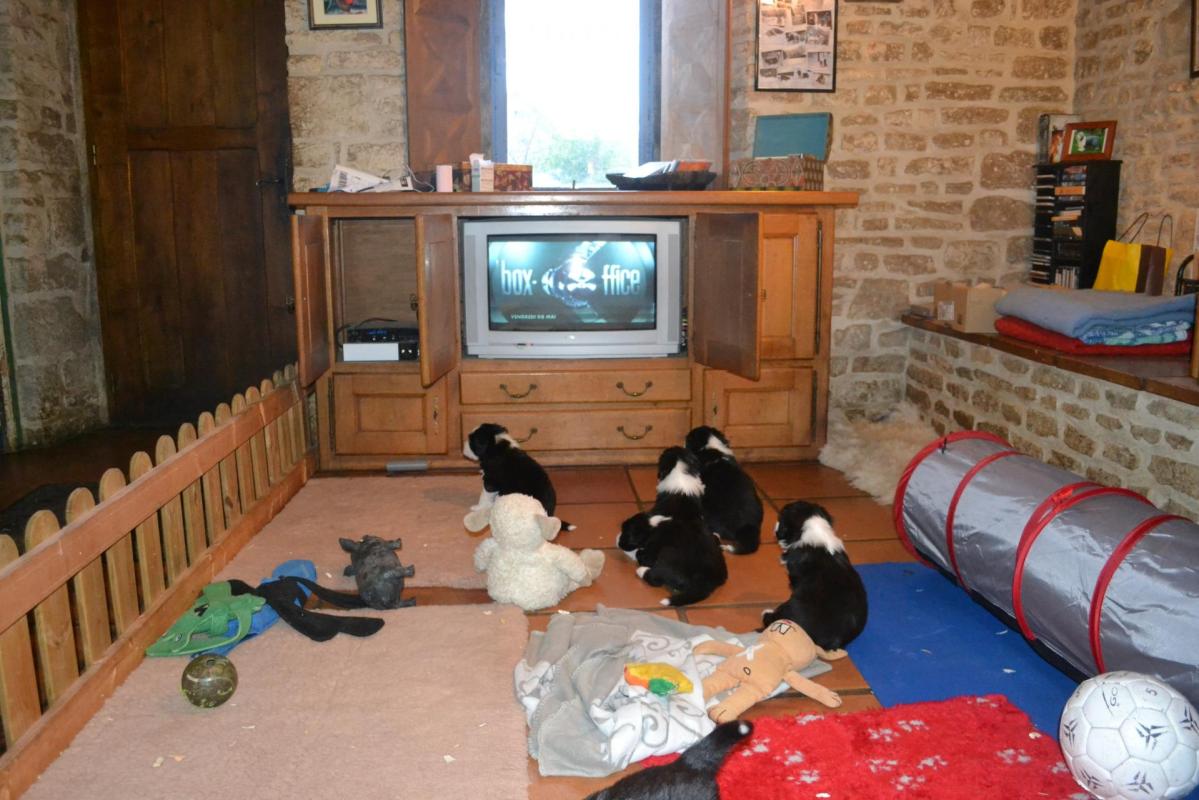 This one is very interested!... and his sister said: "don't like your TV program"...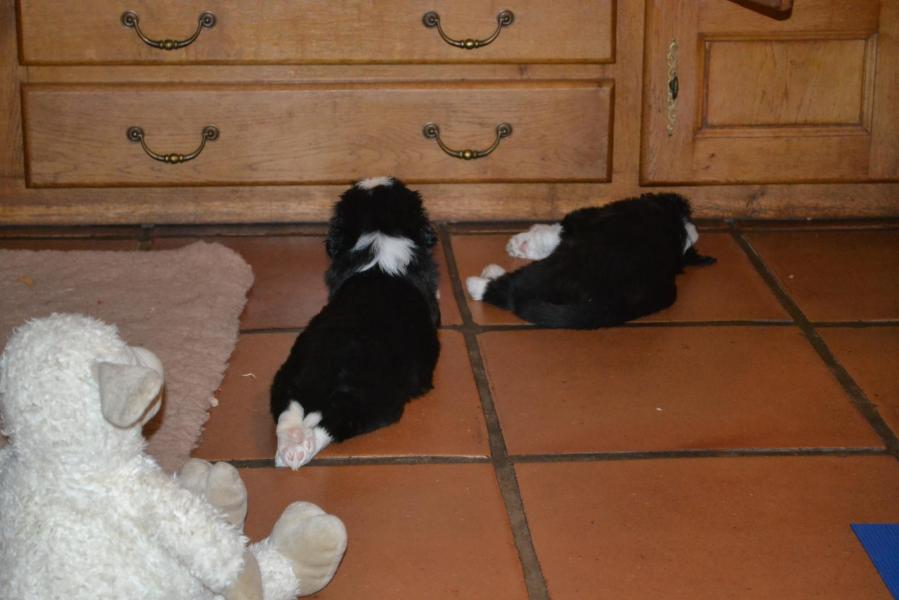 ~~~~~~~~~~~~~~~~~~~~~~~~~~
They grow and evolve very fast... I teach to them "potty training" for one week, and the 3 girls are very clever!... They were the first puppies to use the toilets! Now, it's almost clean after the night. All poops are in the box, and some wees on the newspapers in front!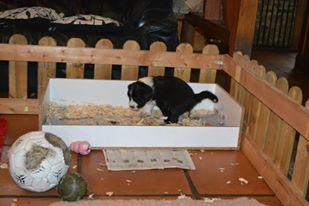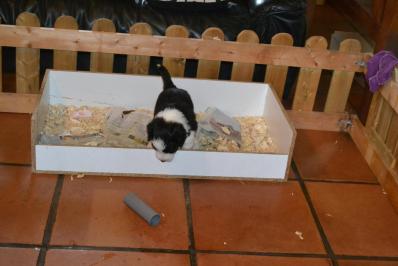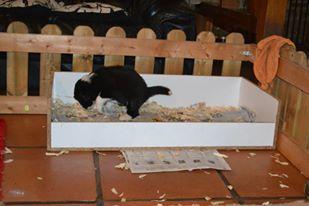 And here are the wonderful girls!...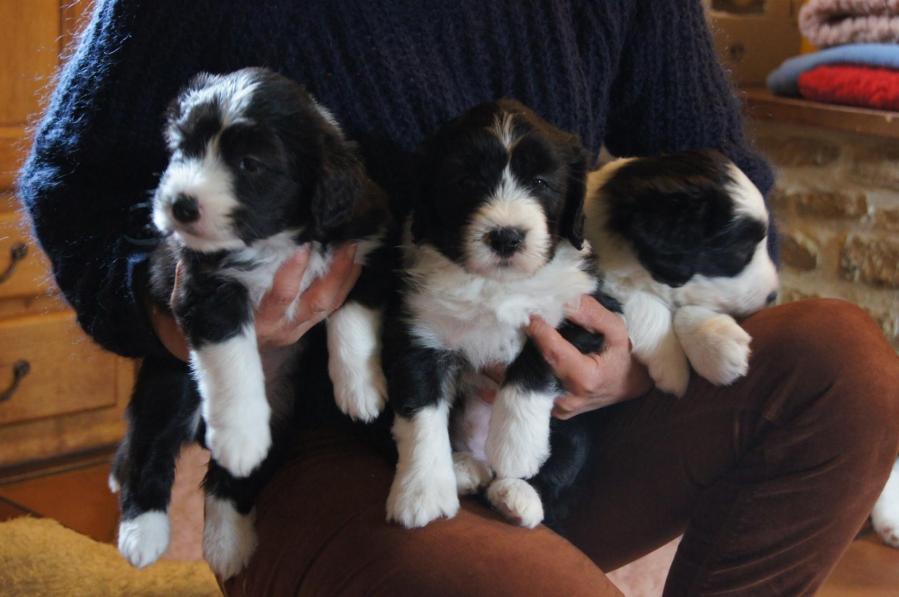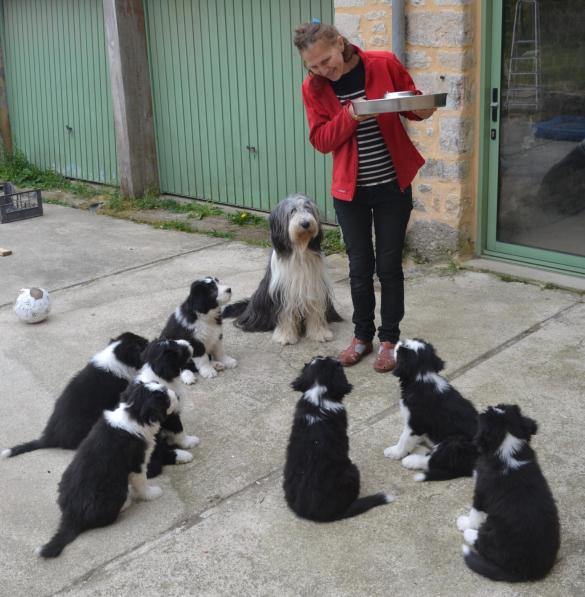 In my job of socialization, I decide to teach puppies to be polited. We would like to get calm puppies which are staying four paws on the floor for cuddles, which are waiting their food without excitation… For a dog, to be polited means to be calm.
Canine communication says that a dog who sits is a calm dog. So, I favour this behavior. I wait and when the puppy sits, I reward him. They learn very fast.
But, I don't give a cue. It's communication between us. As a smile between two people. We don't give a cue to get a smile!
This behavior is very interesting in many situations: before opening a door, jumping in or out the car, when the dog is in leash and I stop for speaking with people…
People who shows their dogs said to me: "No! you don't have to teach to them to sit!" Obviously no! I don't teach to them to sit for the shows! To be polited is not an obedience training, it's communication! So, for shows, I train puppies to stand! And I give them a cue for standing! It's a specific training, and another story!...
apprendre à être poli ("manding")
After watching this video, some people have asked me questions about fears in puppies. I am very happy because I had purposely left the moment where a puppy worries in a new situation. It was not the matter but I found it interesting.
From the 5th week, as children around the age of 9 months, who are afraid of foreigners, puppies discovered at that time what is fear ... This sensitivity (strange sounds, things, movements) increases for a few weeks before the puppy is able to manage its feelings. Some are more sensitive than others with emotional period slightly longer.
It's the job of the breeder to watch and help more sensitive puppies. It is also our job to give little frights to a puppy who seems uninterested. He could one day suffer a huge fear that he would not manage, simply because he never had the opportunity to make on small fears ...
Fear is an emotion that must be experienced to be able to control it.
With puppies, we must be careful because it is necessary that the puppy can feel fear, without never being frightened too strongly. The fear must always be overcome.
Never force! Always reassure.
And that day, my worried puppy on the video learned that you only have to approach to see monsters do not exist! ...
~~~~~~~~~~~~~~~~~~~~~~~~~~
Seven to ten weeks... A lot of work!...
Each puppy is training for leash's walks, driving, knowing their petname, recall, playing with human, beeing alone with human... They learn to accept to give their bone or toy, to like grooming... and they love to play with mummy Cerydwen, sisters, and of course, the cat!...
Here are links to some photos:
Our first puppies left the house, in the sweet arms of their news "parents"... We are a little sad, but we know that they will be happy beardies... And we'll see them again! C'est la vie!...
So last videos with all of them...
Here is Hopper who ask help for pushing him with the skateboard!
They were 8 weeks old... Attack the castel!!!
and who are these strange animals?...